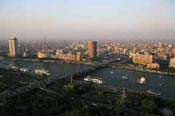 Since the end of the nineteenth century, Egypt has been evolving at a very high speed. Its political, economical and cultural life has undergone striking changes. From the inscription of the first hieroglyph to the construction of the new hi-tech Smart Village, Egypt has always been a pioneer on the frontier for emerging information technologies in the Arab world.

As well as virtual highways, Egypt's roads, railways and waterways form a 21,000 mile network from Alexandria to Aswan. They include the world famous Suez Canal and 1,000 miles of subsidiary canals branching between the Nile and the sea.

POPULATION
With 72,000,000 inhabitants, Egypt represents one quarter of the population of the Arab world. The city of Cairo itself counts about 16,000,000 people.

The Egyptian population is composed of people from various origins. Most Egyptians originate from Ancient Egypt and the Nile Valley. Others come from the Arabic and Levantine descents and the Nubians of Upper Egypt

CUISINE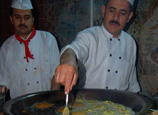 Although some dishes are similar to Middle East Cuisine, Egypt is famous for its typical, local specialities such as "Foul" (Egyptian dry beans), "Molokhia" (a soup made of molokhia leaves and chicken), or "Mahshi" (an assortment of different vegetables usually stuffed with rice and minced meat).

MUSIC AND DANCE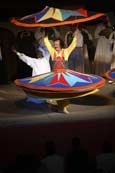 From Om Kalthoum to pop, from the Cairo Ballet to folk festivals, music and dance remain very much present in the Egyptian soul and can be found throughout the country - in the cities, towns and villages and even on the Nile cruise boats.
Music can be heard anywhere in Egypt. Classical Arabic music was represented by Om Kalthoum, the most famous Arab singer of the twentieth century. Her long poems were the expression of Arab identity. Despite her death in 1975, her presence is still strongly felt in the media. She is most probably the only artist in history to have an entire radio station dedicated exclusively to her music.

Pop music is very popular as the average population age has decreased. Egypt also provides the best backing musicians, songwriters, production facilities and the biggest audiences in the Arab world.

Egypt is the only country in the Middle East with a residential classical ballet company - the Cairo Ballet. Almost forty years ago, the Ministry of Culture invited Russian masters to train a new pool of native ballerinas and dancers. Today, the Cairo Ballet boasts 150 full-time students, and is gaining international plaudits for their progressive and inspiring work. Belly-dancing also gained credibility with the advent of cinema. It is still quite popular nowadays.

Sufi dancing is more about spirituality and there's a Sufi troupe that performs regularly in Islamic Cairo.

THEATER
Theatre was at the heart of Egyptian culture long before the Greeks arrived and built their classical auditoriums, including the theatre seating 10,000 spectators at Oxyrhynchos.

Nowadays, both classical and modern theatre, from the mainstream to the experimental edge, is celebrated through international festivals. The highlight climax of the dramatic calendar is Cairo's International Experimental Theatre Festival, bringing playwrights and performers from over 46 countries together.

Egypt was the first country in the Middle East and in Africa to have an Opera House. The first Opera House was built in Egypt in 1869, with room for 2,000 opera lovers in its three theatres as well as a museum, an art gallery and a music library. It is one of the Middle East's premier cultural venues.

LITERATURE
With a Nobel Prize for literature in 1988, Naguib Mahfouz shaped the nature of Arabic l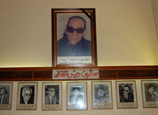 iterature in the twentieth century with his masterpiece "The Cairo Trilogy".

Egypt's women writers such as Nawal al-Saadawi, author of "Woman at Point Zero", or Ahdaf Soueif, author of "The Map of Love", are enjoying more international success than the men.

Some famous western novels of Egypt are worth reading to feel the atmosphere of the country :

"The Alexandria Quartet" by Lawrence Durrell, "City of Gold" by Len Deighton (based on solid research on Cairo) or "The Photographer's Wife" by Robert Sole (for details on nineteenth century Egypt).